Homemade Halloween: The Hidden-Hand Prank!
Popcorn isn't scary... or is it? Find out how you can make a scary movie night even more petrifying!
It's that time again! prepare the pumpkins with gruesome grins and pop those fake fangs in... it's Halloween! 
One of the best things about the spooky season is pulling pranks on your pals and giving them a big old screaming scare. Have you checked out our spooky 'Head In A Jar' prank? It's petrifying!
Here's another for you to try – the classically cruel 'Hidden Hand' prank is extremely quick and easy to make, and perfect to do during a scary movie night!
Follow our step by step guide for the gag that'll put the trick in trick or treat!
You will need:
Scissors
An empty cardboard box
Popcorn: any kind will do
Decorative paper to make your popcorn box look totally blam!

STEP 1
Cover the sides of your homemade popcorn box with some suitable decorations. You could have bats, ghosts, pumpkins or even a skull. We've gone for red and white stripes like a traditional popcorn box!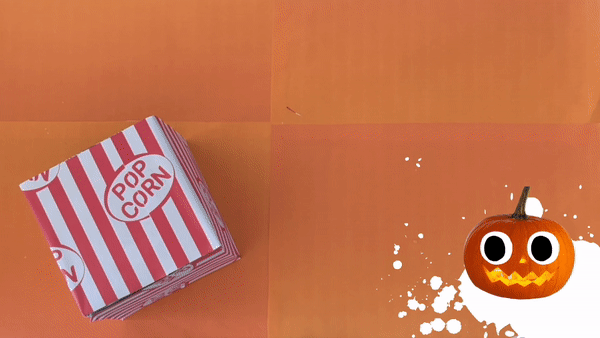 STEP 2
Cut a square hole in one side of the box. This will be the top of popcorn box, where your unsuspecting prank victims will be lured by the promise of deliciously popped corn kernels!
STEP 3
Draw a feint 'X' on the bottom of the box. This is where you will cut two slits so you can hide your hand, and so that the popcorn will stay in place. Nobody likes 'floor' popcorn – remember, you get to eat this later!
STEP 4
Fill your popcorn box with delicious popcorn. Remember to leave enough room for your hand or you'll get popcorn everywhere before you've even done your prank! See how we pour this with the flair of a cinema snack counter boss!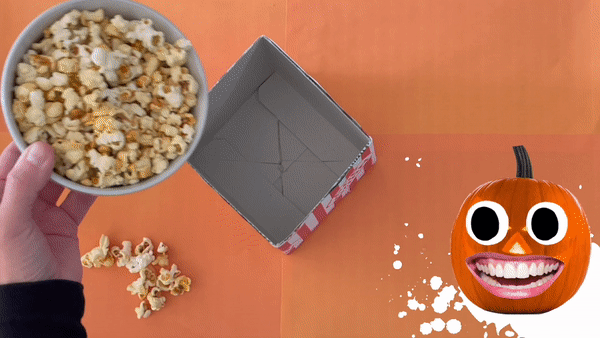 STEP 5
Warning: the next part will terrify those who spook easily! Offer your friend some popcorn and give them a salty or sweet scare of a lifetime! Remember to reassure your friend or family member that this was, in fact, your hand after all!