This Joke Advent Calendar 2021 Is Snow Funny!
It's a joke a day with the Beano advent calendar!
We're crackers about Christmas jokes!
Here's a joke a day for every day of advent, so you can fill your advent calendar with funny Christmas jokes. When you're done here, check out our collection of funny Christmas jokes, our snowman jokes and our Santa jokes.
With the Joke Generator you can get your hands on a random funny joke whatever the time of year.
25
Q: How many letters are there in the Christmas alphabet? 
A: 25 - there's no L!
24
Q: How do you feel when you can't get to your Advent calendar chocolate? 
A: Foiled!
23
Q: What do you call an old snowman? 
A: A puddle!
22
Q: What do you get if you cross a Christmas tree with an iPad
A: A pineapple!
21
Q: Why is a broken drum an excellent Christmas present? 
A: You can't beat it!
20
Q: What is a lion's favourite Christmas carol? 
A: Jungle Bells!
19
Q: What does Santa do when his elves misbehave? 
A: Gives them the sack!
18
Q: What did the stamp say to the Christmas card? 
A: "Stick with me and we'll go places!"
17
Q: Which Christmas carol do dogs like best?
A: Bark the Herald Angels Sing!
16
Q: Who hides in the bakery at Christmas? 
A: A mince spy!
15
Q: How is Drake like an elf?
A: He spends all his time wrapping!
14
Q: What do snowmen eat for breakfast?
A: Ice Krispies
13
Q: What nationality is Santa? 
A: North Polish!
12
Q: Who is Santa married to? 
A: Mary Christmas!
11
Q: How do snowmen get around?
A: They ride icicles!
10
Q: What football team did baby Jesus support? 
A: Manger-ster United!
9
Q: What did the snowman ask the other snowman? 
A: "Can you smell carrots?"
8
Q: What is the most popular Christmas wine? 
A: "I don't like sprouts!"
7
Q: Why don't you ever see Father Christmas in hospital?
A: Because he has private elf care!
6
Q: What's green, covered in tinsel and goes "ribbet ribbet"?
A: Mistle-toad!
5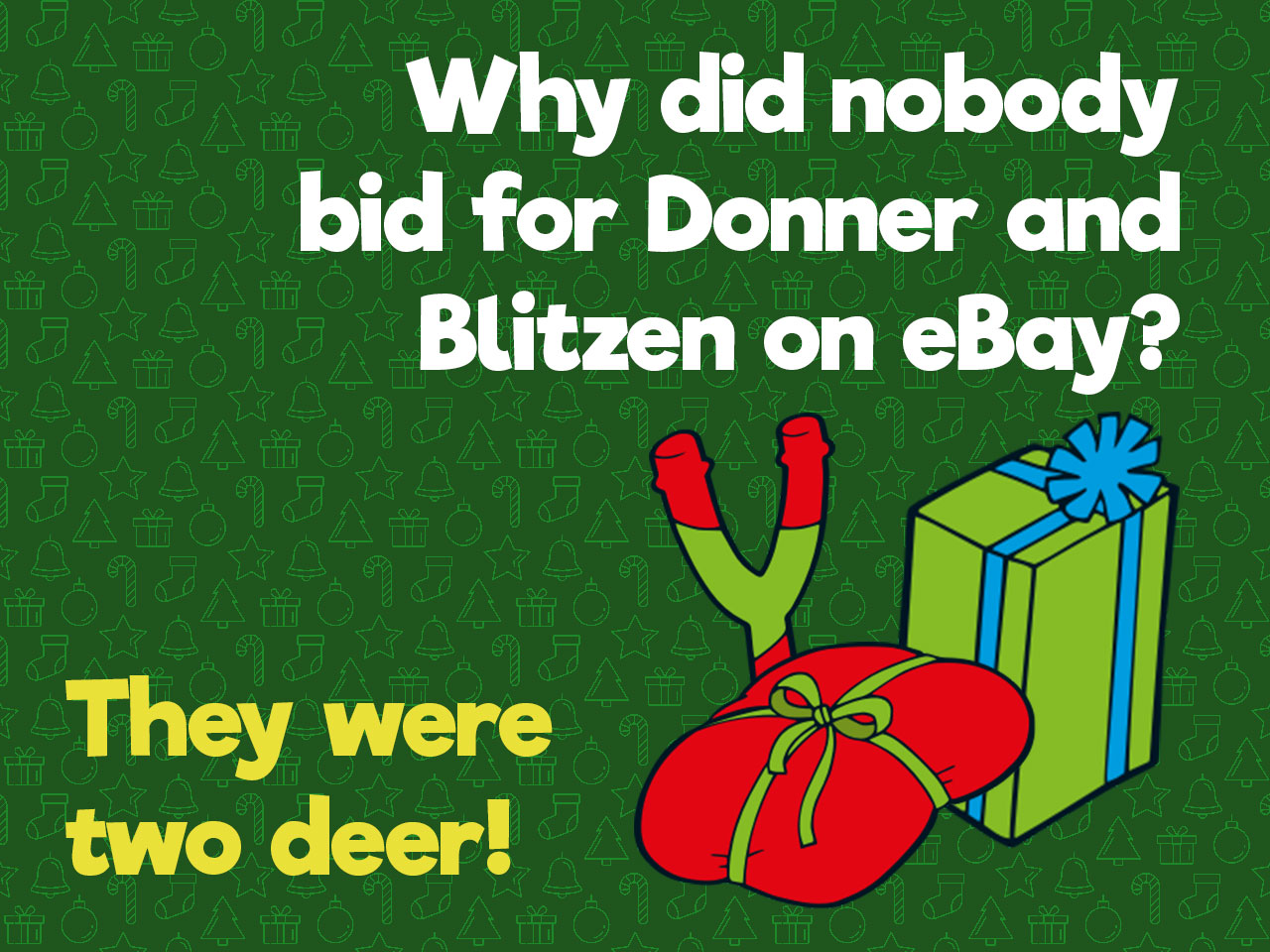 Q: Why did nobody bid for Donner and Blitzen on eBay?
A: They were two deer!
4
Q: How did Ebeneezer Scrooge score a goal?
A: The Ghost of Christmas passed!
3
Q: Why is it getting harder to buy Advent calendars?
A: Their days are numbered!
2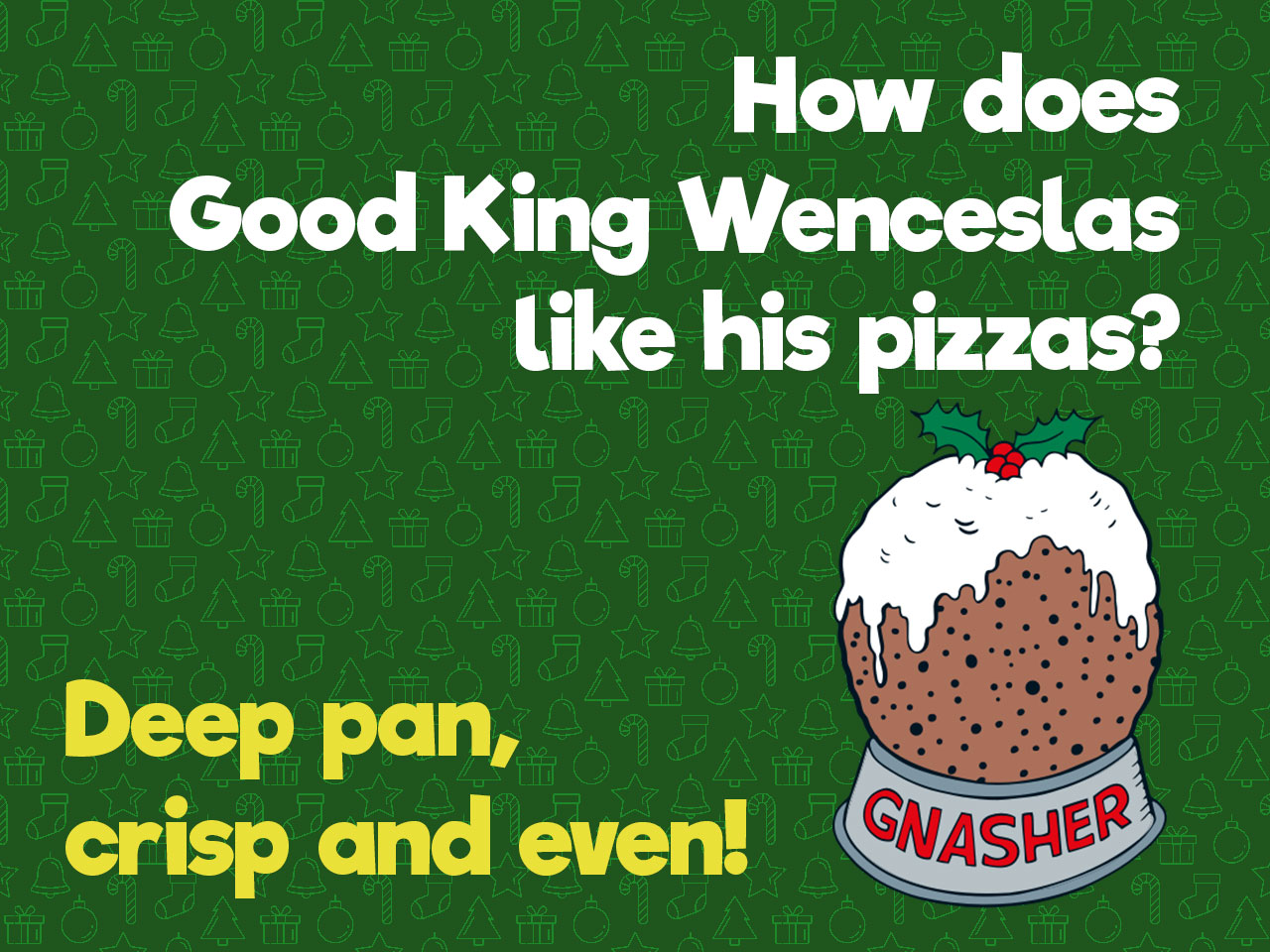 Q: How does Good King Wenceslas like his pizzas?
A: Deep pan, crisp and even!
1
Q: How does Santa feel when he gets stuck up a chimney? 
A: Claustrophobic!
Want more jokes?
Visit the Joke Generator!